Extraordinary tournaments
Gourmet Tournament at Rasmushof
Another highlight of the Kitzbühel Golf Festival is the traditional "gourmet tournament" at GLC Rasmushof.
The first meal is served before the tournament has even started. Then a veritable golfing and gastronomic extravaganza unfolds across the 18 holes. Culinary delights await participants at every second tee. From champagne to sandwiches, fresh fruit to hot dishes, delicious desserts and much more besides. Rest assured that the gourmet experience continues even after the golf has finished. This tournament is all about fun and indulgence.

Don't miss out on this tournament! book here now.


Streif Attack – Schuss across the Streif
The infamous "Streif" downhill run poses a challenge to every skier. Only the world's best have been able to master this course.
Now it's your turn. Standing at those legendary starting gates, golf club in hand, you'll be able to imagine the feelings of a downhill racer, feel your heart pounding in your chest. After all, at this very moment it is YOU who must face this daunting challenge. You must conquer the Streif with your golf club, maybe even in a flight with one of the many stars. There are 12 holes to master: down across the notorious "Mousetrap" to Seidlalm, and from there up the steep finishing slope to Rasmushof. This is no time to be quaking in your boots; you need to step out boldly onto the green for your first stroke!
At Lake Seidlalm you will find the first special challenge: "Nearest to the Pin". Then, after a hearty Tyrolean snack on the race course you will come to the next special challenge, the "Longest Drive on the Streif", on the final descent to the finish line.
Mutual congratulations between participants are the order of the day: everyone who conquers the Streif is a winner.
Hiking boots or sturdy shoes are a must!!


NEW! Night-time castle tournament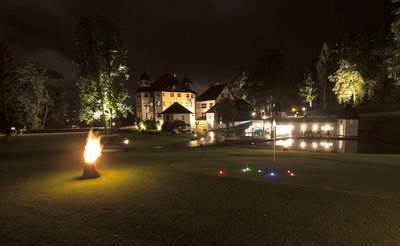 A wonderful festival day draws to a close, night draws in and darkness descends across the greens.
But not everywhere. Lights are switched on at Schloss Kaps, so it's "spot on" for the first night-time golf tournament at Schloss Kaps. Enjoy playing in a superb golf tournament in a very special, exclusive setting on the grounds of Schloss Kaps. Only 36 participants have the opportunity to tee off in the spotlight. The shuttle service takes you from the hotels to the castle (about 8 pm). Sunset at the castle. Cannon start at 9.30 pm is accompanied by a superb culinary experience with the "flying dinner buffet" . Turn night into day as you play YOUR game! Shuttle service to the hotel. Booking only possible via hotels.
Minimum number of participants 36 players.